Omniport Relay Interface Manual
Overview
The Omniport Relay Interface (ORI) allows you to interface the Omniports on your MC3 / MC6MKII / MC8 with other devices that has switching inputs.
The ORI has
a 9VDC Center Negative input

a Omniport In 1/4" Jack to connect to the Omniport with a TRS cable

a Relay Out 1/4" Jack to connect to the switching input of the device that you want to control
The LED indicators on the ORI lights up
Power - when the ORI is connected to a power source

Tip - When the Tip connection is shorted to Ground

Ring - When the Ring connection is shorted to Ground
The ORI allows you to safely control other TRS switching inputs without damaging your Omniports. There is no standard for TRS switching and different devices works at different voltages and currents. Hence, the ORI is required to safely interface the Omniports to other TRS switch inputs.
Relay Out
The Relay Out jack is a TRS jack that switches by pulling the
Tip to Ground

Ring to Ground

Tip and Ring to Ground
Configure Omniport Settings
In the Configure Omniport settings for your MIDI controller, set the port to Ext Omniport Relay Interface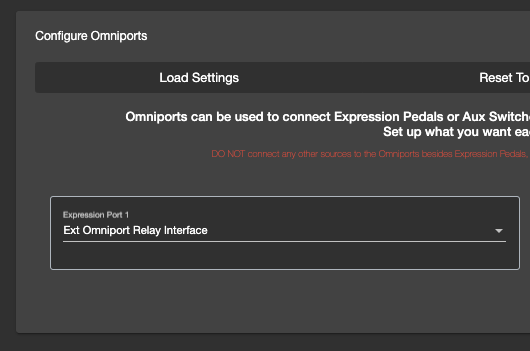 After which, connect a TRS cable from the Omniport to the Omniport In jack in the ORI.
Program your Preset
To control the ORI, simply program a preset in your MIDI Controller. Use the Morningstar Relay Interface message type, then select the Omniport that your ORI is connected to.
Next, select the action you want for the Tip and Ring when the preset is engaged.

The available options are:
Tap - NO

Shorts the connection to ground momentarily before reverting back to a Normally Open (NO) connection

Tap - NC

Breaks the connection to ground momentarily before reverting back to a Normally Closed (NC) connection

Engage

Disengage

Break the connection from ground

Toggle

Toggle between engage and disengage
Requirements
Power
Requires at least 80mA at 9vDC
Specifications
Relay Contact Rating
120VAC / 24VDC at 1A